New designed cupcake stands
Recently, our designing team come out with several styles of cupcake stands which are now ordered by many of our customers. I bring 2 of the most representive opuses here. Now, let's take a look at these new arrival goods.
1. Sailing style cupcake stand. Fulfilling your childhood dream as being a pirate.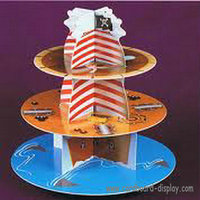 'If I could travel in time, I'd visit Pirate Times. I would like to sail a pirate ship looking for treasure, have a colorful pet parrot and enjoy beautiful sunsets from deserted islands.' The designer who create this cupcake stand said. I think this is not only his dream but also many of ours. This style of cupcake stand will
obviously bring much more fun to your Pirate Theme Party. Don't hesitate any more, book it and bring it home to be a real pirate together with your kids!
2. Girl's dream cupcake stand. Being a princess now.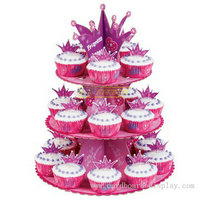 Being a princess is most of little girls' dream in their childhood. But it seems not possible when we were still a child. But now, to fulfill the little girs' dream, our designers bring out this style of cupcake stand which will help to build girls' castle. As a grown up now, I think the most valuable treasure for a child is having a fantastic childhood. It's time to be a responsible parent now. Let's bring it home and leave a impressive memory to your little girl.