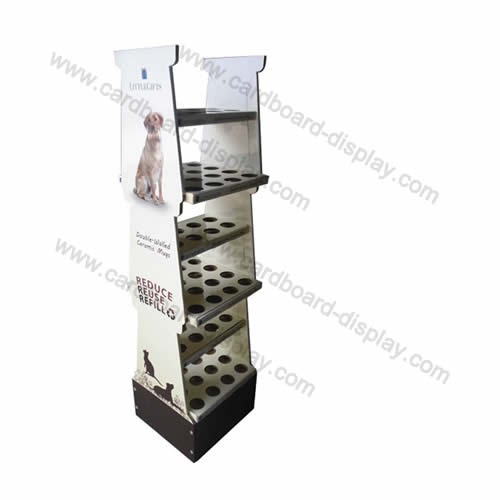 Products Advantage:
reference number:CFD-61
100% recyclable, environment friendly
Professional design and delicate quality
Colorful printing for advertising
Reasonable price and excellent service
Innovative & Economical
Customized Color and Designs are Welcome
Excellent advertisement for new products
Easy to carry and assemble
Products Specifications:
product specification:
1) Size, style, Color and Structure can be customized.
2) Perfect for any type of occasion
3) 4 color (CYMK) or Panton color printing for beautiful color.
4) Materials - Recyclable cardboard, white paper board, corrugated cardboard, etc.
5) Stamping, Silver/gold stamping, Aqueous coating etc.
6) MOQ - Minimum quantity displays is 100 units, we also accept small order.
Mass production: 10-12 days /100-1000 sets
8) Transport methods: Ocean shipment, Air shipment, Express delivery
Cardboard displays, cardboard display stand made of 100% recycled corrugated cardboard, which is environmentally friendly and ecological costs of materials, good design is made, they can be cut most practical shape, with shelves, trays and counter the product, but also with Full color printing to make the most of your product is attractive. So cardboard display the best salesmen around to promote the manufacture and sale of supermarkets attractive advertising, retail, etc.
1, on the structure: This structure is carried out according to our customer's product design packaging sizes, for reference only, can not be purchased directly. Similar models can be customized according to your company's product packaging size and display number.
2, on the design: we can design the structure according to the buyer's product packaging size, the main target market and positioning of marketing.
3, on the material: We basically mounted ash corrugated high-strength, low-carbon environment in line with requirements.
4, on the picture: This image is based on the buyer to do a flat file provided by the Division I Die line, we follow the requirements of the buyer's document printing process.
5, on the price: This prices are reference price, specific price in accordance with the structure and size of the display, screen printing, material requirements, and to adjust the amount.
6, high demand: All Chin are first provided renderings confirmed after the signing of purchase and sales contracts, free proofing again determined before producing goods, our company is computer-generated sample with bigger cargo is exactly the same.
7, a small amount of demand: Division I MOQ 200, too few are proofing, relatively high cost.
8, freight about: Our quotations are free shipping (outside of special note), a small amount of goods go express, specific fees charged in accordance with the courier company standards, a large number of goods go cargo, specific freight negotiation.
9, on return: Our production of the goods are customized, and pre-proofing after determining reproduction. So I do not accept the return policy, please understand.
10, on production equipment: Has a new ultra-full (1600 × 1200) KBA four-color printing press and supporting the finishing process, all production processes without outgoing, done entirely in its own factories, quality is fully protection.
11, the company Qualifications: nearly 10 years of export experience in foreign trade, by ISO9001-2008, SGS certification.

1. For the display position of the supermarket, point of sale retail store, point of purchase stores, shops, exhibitions, advertising and promotional items.
2. sweets and chocolates, cosmetics, clothing, baby supplies, batteries and chargers, food and snacks, and beverages and alcoholic drinks, coffee and tea, books and CD, greeting cards, magazines, cell phones and headsets, electronic cigarettes and Application Industry lighters, electronics, gifts and premiums, glasses, household goods, LED and lighting, office and school, pet supplies, Pharamcy and medicine, socks and shoes, sporting goods, toys and so on more than 22 industries.
Why Lay's potato chips, layers of corrugated cardboard display unit, massive sunglasses display rack?
• lightweight cardboard display stand for easy transport and portability.
• Environmentally friendly - it can be 75% of recycled materials, and after 100% recyclable.
• Print - we print directly on the surface of the cardboard display stand has excellence quality results.
• Easy to work - it is very easy to assemble, to save transportation costs, labor and electricity
• knocked packing- cardboard display stand can knock down package, to save on shipping costs
• Customizable friendly- it can be customized in structure and graphics
• Eye catching- cardboard display suitable for the sale of goods and promotion